CRYSTAL FORMATIONS AND THEIR MEANINGS
This "CRYSTAL FORMATIONS AND THEIR MEANINGS' chart consists of 30 different, hand-drawn illustrations of quartz crystals on a double-sided, laminated chart. Each illustration is accompanied by a brief description of some of the main properties of each different configuration. Ideal for those who wish to have a quick reference guide to understanding their crystals.
$3.50 each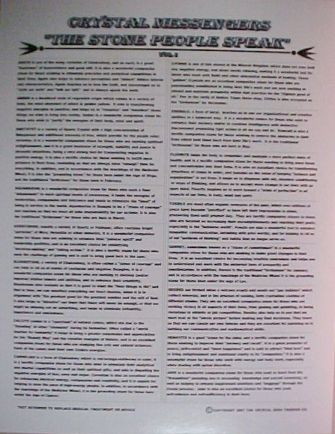 THE STONE PEOPLE SPEAK Vol. 1
This chart consists of 34 different stones and their properties on a double-sided, 11x8" laminated chart. The stones we have chosen to include in this chart are Agate, Amber, Amethyst, Aquamarine, Aventurine, Bloodstone, Calcite, Carnelian, Citrine, Emerald, Fluorite, Fossils, Garnet, Geodes, Hematite, Jade, Jasper, Labradorite, Lapis Lazuli, Lepidolite, Malachite, Moonstone, Mother Of Pearl, Onyx, Opal, Peridot, Pyrite, Rhodochrosite, Rose Quartz, Ruby, Sapphire, Tiger Eye, Tourmaline, and Turquoise.
$3.50 each